Posted by Roberts Edible Craft on 27th Feb 2020
Our Raspberry Tulip cheesecake slice recipe, will show you how easy it is to give the desserts you would normally make a little bit more WOW factor.
Here is what you need to achieve it:
Roberts Melting Buttons - Milk, White or Dark
Your Favourite No Bake Cheesecake Recipe
Step 1 - Raspberry Cheesecake.
Prepare your favourite cheesecake according to the recipe instructions, but during the mixing stage, flavour the the cheesecake batter with 2-3 drops of Raspberry Flavoured Food Colouring. You don't need a lot as our flavours are very concentrated, so you are always best to add a couple of drops,and taste. You can then add more if you feel it needs it. For this recipe we have used a Rectangle Tart Tin instead of a traditional round tin. You will be easily able to adapt your recipe to sheet the rectangle shape.
Step 2 - Chocolate Shards. - Watch our Video to see how this is done.
Melt the chocolate (use one of the methods on the instructions on the back of the packet)
Lay the Tulip Transfer Sheet (printed side up) on top of the baking paper and place the Chocolate Template over the top. Pour melted chocolate along the top side of the template.
Step 3 - Assemble.
Using the Icing & Chocolate Smoother, slide the chocolate from top to bottom until all cavities are filled.
Place the tray in the fridge for approximately 30 minutes to set.
Gently remove the template and your colourful chocolate shards are ready to use.
Note: Chocolate Shards can be made ahead of time and stored in a good quality airtight container in the fridge.
Step 4 - Decorate
Evenly place the Chocolate Shards along the centre of the Cheesecake Slice pressing down gently to secure before serving.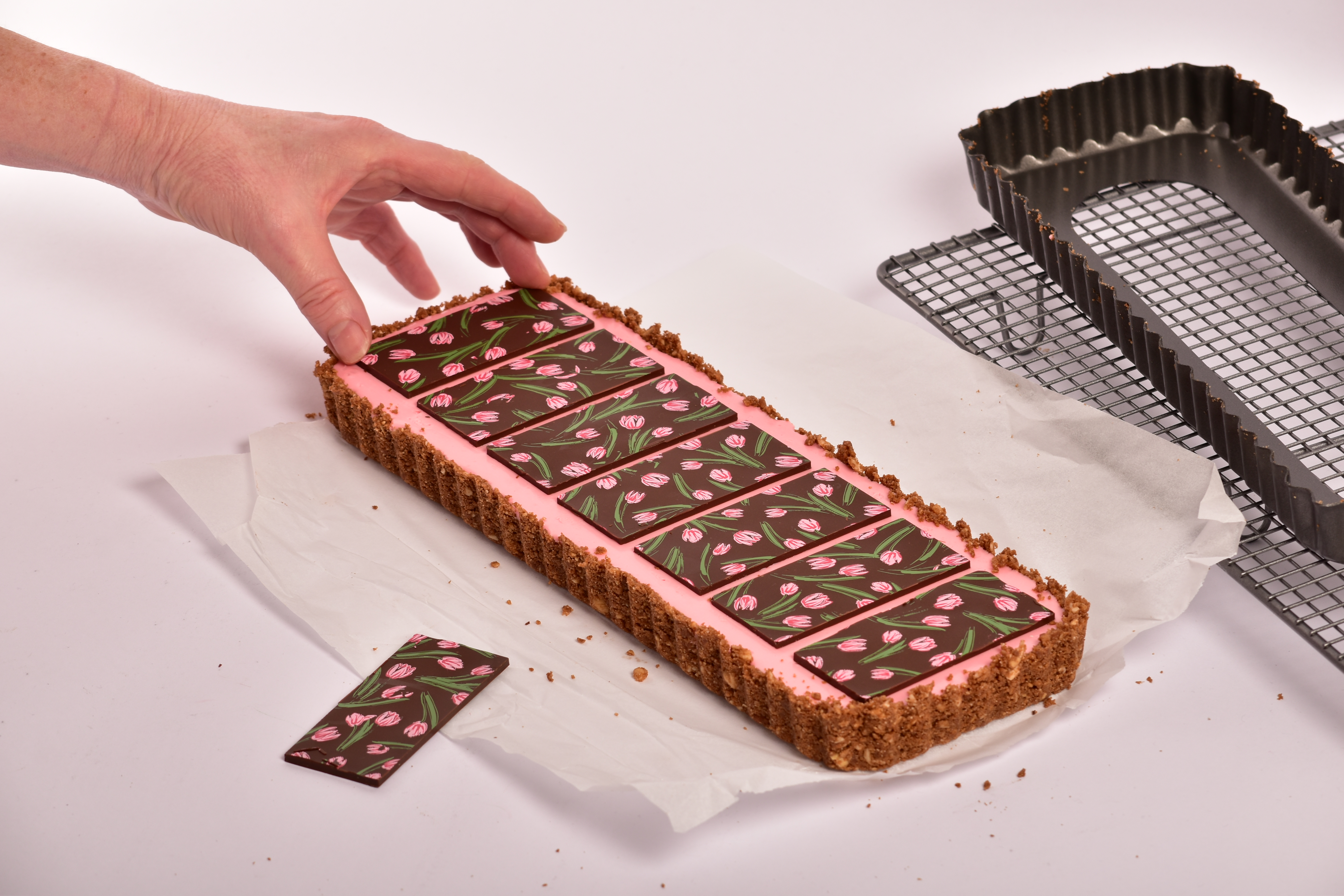 To Serve: Using the chocolate chards as your spacing, will also mean you get perfectly even slices for everyone!