Posted by Roberts Edible Craft on 13th Jan 2020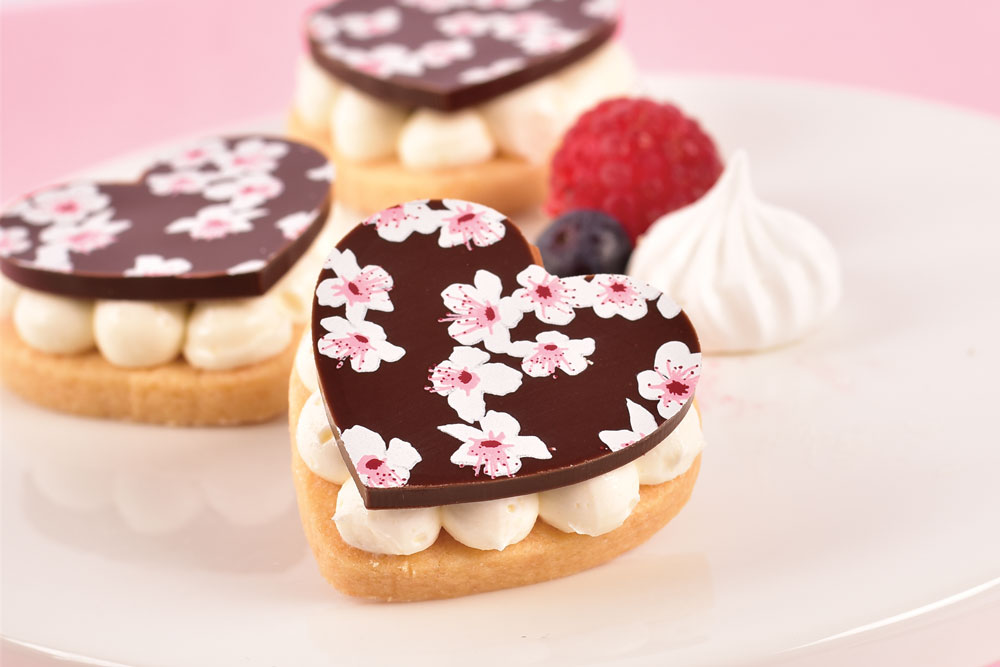 Ingredients
500g Roberts No Spread Vanilla Biscuit Mix

300g Roberts Melting Buttons

Dark, Milk or White - melted

Roberts Chocolate Transfer She

et

Cherry Blossom

200g Roberts Silky Icing

Meringue Buttercream Mix

100g Roberts Bakers Jam
Materials
Roberts Flexi Mat

Baking paper

Roberts Thickness Guides – White

Rolling Pin

Flat Trays

4 x 4 cm Heart Cookie Cutter

Roberts Chocolate Templates – Heart

Roberts Icing and Chocolate Smoother

Roberts 14" Piping Bags

Piping Nozzle 1.2cm Open Round
Step 1 - Love Heart Cookies

Refer to the Biscuit Mix packaging for detailed instructions of how to make the biscuit dough.
Refer to the Thickness Guides packaging to create perfectly even biscuits.
Whilst it's not necessary to rest the dough, cold dough is easier to cut and handle.Refrigerate the rolled dough for approximately 10 minutes.
Cut and bake according to packaging instructions.
Cool completely before decorating.
Step 2 - Chocolate Love Hearts
These chocolate decorations are so impressive and easy to make. They are perfect for decorating cookies, chocolates, cupcakes, cakes, desserts and more. Refer to the Chocolate Template card for detailed instructions of how to create colourful chocolate hearts.
In this recipe we've used Cherry Blossom Transfer Sheet. Sample images below show Brush Stroke Transfer Sheet.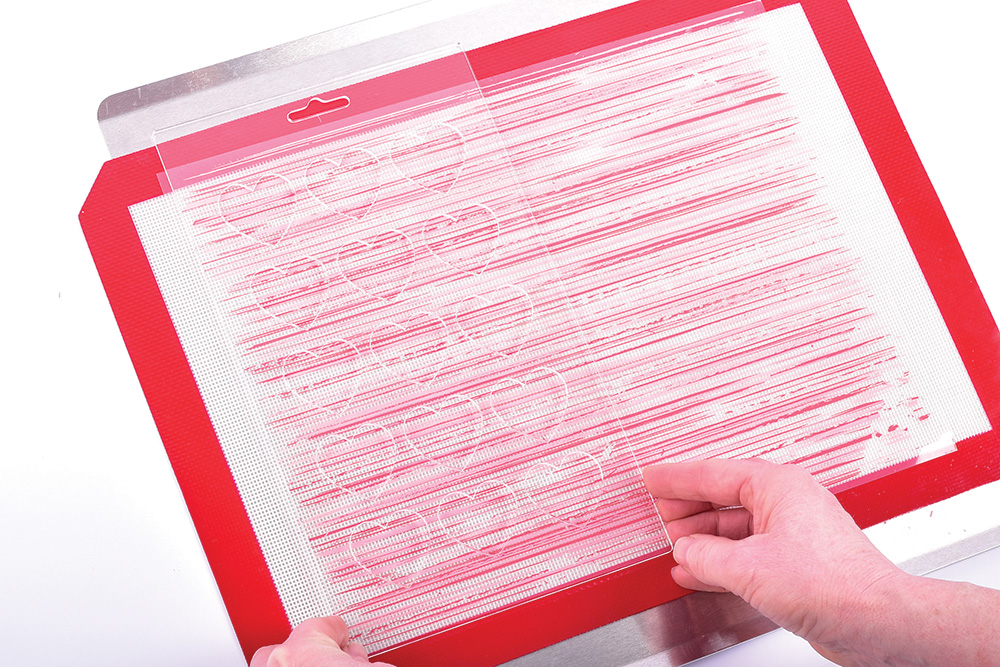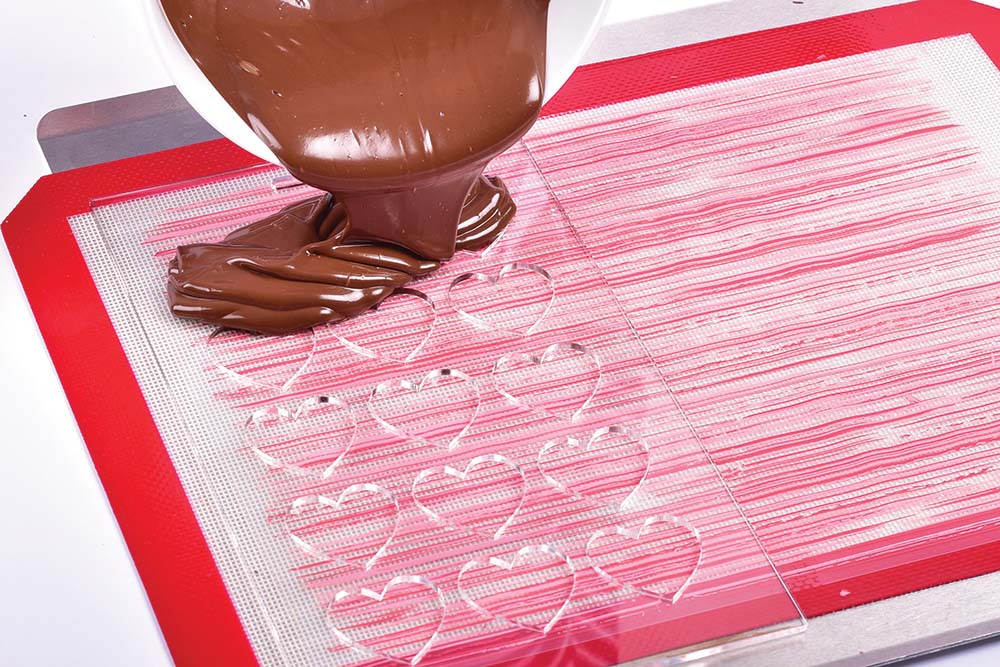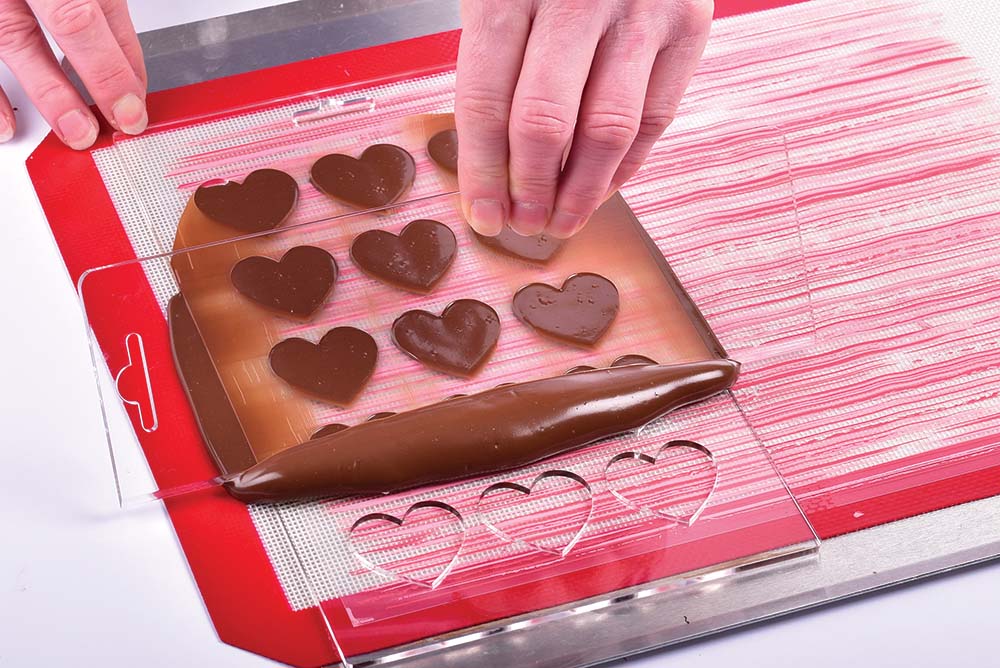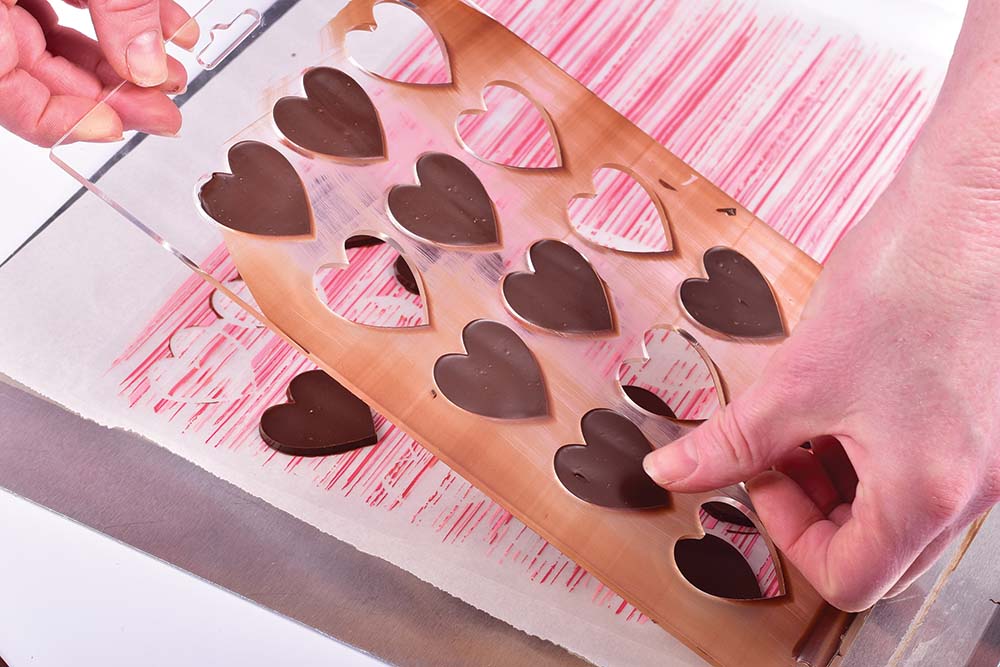 Step 3- Meringue Buttercream Icing
Refer to the Silky Icing packaging for detailed instructions of how to make the 200g recipe.
Step 4- Assemble
Spoon the Bakers Jam into a piping bag and cut a small hole in the end.Pipe a small amount of Jam in the centre of each cookie.
Spoon the Silky Icing into a piping bag fitted with the Open Round Nozzle attached.
Pipe dots of Silky Icing around the edge of each cookie. Place chocolate hearts on top and serve.